Skip Global navigation and goto content
Flagler Health & Florida Heiken Share the Gift of Clear Vision with Flagler County Students
December 02, 2021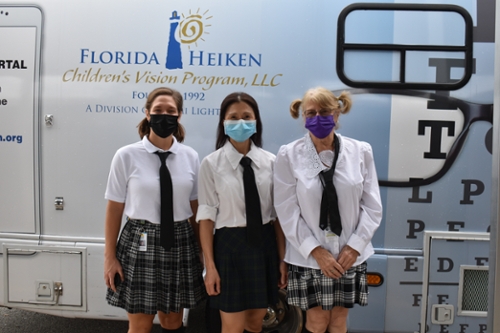 In 2019, the Flagler Health Department's School Health Coordinator and registered nurse Stephanie Ear identified an opportunity that helped almost 200 Flagler County elementary school students receive free prescription eyeglasses after they failed in-school vision screenings. She connected with Florida Heiken Children's Vision Program, one of two state funded vision programs that help at-risk students achieve academic and social success, and convinced them to bring their Miami-based program to Flagler County. They agreed and three years later, the partnership continues and is stronger than ever. In fact, the program has expanded to offer vision services to all Flagler County school students. With the support of and cooperation from Flagler School district school nurses, the health department is making it possible for even more Flagler students to see clearly through its affiliation with Florida Heiken.
Florida Heiken provides free no cost eye exams and eyeglasses if necessary for Florida public school students. Thanks to Stephanie's perseverance, the Miami-based Florida Heiken team now travels to Flagler County twice a year to screen students and offer them free prescription eyeglasses. 
Stephanie and her colleagues, Luci Griggs and Allison Brown, who are also nurses, work with school nurses to identify students to participate in the program, obtain consent forms from parents and arrange for Heiken to visit schools in one of four fully outfitted vans that serve as mobile optometrist offices.  Each van is equipped with all the tools a licensed eye doctor needs to provide free eye exams (with dilation) to students. School nurses schedule appointments for students to see the Heiken eye doctor during school hours and, if eyeglasses are needed, students select their own frames at the end of the visit. From there, the prescription glasses are made and delivered back to the school in a few weeks for student pick up.
The Florida Heiken partnership is a win-win for students and their parents. There's no need to take off work or school for eye doctor appointments and no cost for the eye exam and prescription eyeglasses if corrective lenses are needed. There's also a huge benefit associated with student success as 85 percent of what children perceive, comprehend, and remember depends on the visual system. By making sure students can see clearly, Florida Heiken is helping visually-impaired kids achieve greater academic success. 
This year, Heiken has already visited several schools in Flagler County, screening more than 350 students and providing free prescription eyeglasses to as many as necessary. The organization is due to return to Flagler County in early 2022 for a second round of student screens.
To arrange for a student to receive a vision screening, please call 386-313-7069 or contact the nurse at your child's school.
About the Florida Department of Health
The Department, nationally accredited by the Public Health Accreditation Board, works to protect, promote and improve the health of all people in Florida through integrated state, county and community efforts.
Follow us on Facebook, Instagram and Twitter at @HealthyFla. For more information about the Florida Department of Health please visit www.FloridaHealth.gov.
For information about the Florida Department of Health in Flagler, go to flagler.floridahealth.gov, call 386-437-7350, or visit 301 Dr. Carter Blvd. in Bunnell.